I am here to address an issue which seems to have two very different groups of people convinced that they are right. Those groups are the "Zach Parise will be in a New Jersey Devils sweater for years to come" and the "There's no way the Devils can re-sign Parise after the Ilya Kovalchuk deal!".

Unfortunately, there is only one group that is right. The group that I'm in. The first group.
To try to ease the fears of that second group, I am here to explain just how the Devils will not only re-sign Parise, but will have plenty of money to do so.
Zach Parise becomes a restricted free agent after this season. He will make $5,000,000 this year, with a cap hit of $3,125,000.
Let's say the Devils re-sign Parise to an eight year, $55,000,000 contract. That would take him to 35 years of age, and would see the Devils take a cap hit of $6,875,000 per season.
It would pay Parise just over $208,000 more per season than Kovalchuk, and would solidify his position as team leader and probable captain after Jaime Langenbrunner departs.
So how, exactly, can the Devils afford to pat Parise AND Kovalchuk? It's really not that hard to figure out if you just take a few minutes to look over some numbers.
Jason Arnott, who has a cap hit of $4,500,000 this coming season, is an unrestricted free agent after this season. Same goes for Johan Hedberg, whose cap hit is $1,500,000, and Langenbrunner (if he isn't traded before then), whose hit is $2,800,000 this season.
Those three players alone free up $8.8 million after this season. When you take into consideration the $3.125 million hit of Parise's contract this year, the Devils have almost $11 million to play with next season (after you subtract the cap hits remaining next year on the buyouts of Jay Pandolfo and Andrew Peters).
Let's take a look at what the roster could look like next year if Parise was signed to a contract similar to the one I suggested (all figures are cap hits):
Zach Parise -$ 6,875,000
Ilya Kovalchuk – $6,666,666
Patrik Elias – $6,000,000
Brian Rolston – $5,062,500
Travis Zajac – $3,887,500
Dainius Zubrus – $3,400,000
David Clarkson – $2,666,666
Rod Pelley – $550,000
Pierre-Luc Letourneau-Leblond – $525,000
Anton Volchenkov – $4,250,000
Henrik Tallinder – $3,375,000
Colin White – $3,000,000
Bryce Salvador – $2,900,000
Martin Brodeur – $5,200,000
That's a total of 14 players signed at $54,358,332. That leaves $5,041,668 for nine players (if you use the same salary cap as this season- $59.4MM). While an average of $560,185 is not a lot for nine players, the Devils will actually have more money available.
When you take into consideration that a few of the players listed above have to be moved this year for salary cap purposes, that frees up even more room.
If we take away Salvador's salary (the lowest of any of the players mentioned in trade talks), the money available per player needed next season jumps to almost $800,000 for 10 players.
The only other current roster players who are free agents next season are Andy Greene (UFA), Vladimir Zharkov (RFA), Anssi Salmela (RFA) and Mark Fraser (RFA). None of these guys should get a raise that will pay them much more than $800,000.
Add those four at $750,000 each (no way they will all make that much.. but I'm exaggerating salaries to prove a point) and the roster jumps to 17 players (six needed) with just under $5,000,000 left.
If you take into consideration some players who could make the club and be added to the roster this year, and will likely be on the team next year… guys like Jacob Josefson ($900,000), Mattias Tedenby ($875,000) and Alexander Urbom ($875,000)… you have a 20 man roster with $2,291,668 left for three players.
The Devils have some key restricted free agents who are currently non-roster players. They include Alexander Vasyunov, Matt Corrente, Tyler Eckford, Jeff Frazee, Michael Swift, Olivier Magnan and a handful of others. Some of these could fill out the roster next year, or the Devils could sign a few free agents.
At an average $764,000 for each player, either option could bring in solid players to fill in the roster.
This still doesn't take into consideration that the team will likely have to get rid of another big money contract before this season begins. The purpose of my example is to show everyone that is in panic mode over Parise that even with minor moves made, re-signing him wont be impossible.
What you also have to remember, for those that still doubt me, is that if another team decided to jump in and sign Parise to an offer sheet, they would have to give the Devils compensation if they chose not to match it since Parise is not unrestricted. When a player is restricted, his team gets a chance to match any offer by another team. If it doesn't, the new team must pay compensation to the original team. In this case, that would be the Devils.
The 2010 compensation chart:
OFFER / COMPENSATION
$1,020,348 or below
None
Over $1,020,348 to $1,545,981
Third-round choice
Over $1,545,981 to $3,091,963
Second-round choice
Over $3,091,963 to $4,637,944
First-round and third-round choice
Over $4,637,944 to $6,183,925
First-round, second-round and third-round choice
Over $6,183,925 to $7,729,907
Two first-round choices, one second- and one third-round choice
Over $7,729,907
Four first-round choices
If you figure Parise would fall somewhere in the last three options, is there a team out there that will not only pay him that type of money, but also lose, at the very least, a first, second and third round pick? There are a few teams that have a lot of money available that could take that chance (I'm looking at you, Islanders), but would the loss of draft picks be worth it for a team like that?
Lastly, as I've said since the Kovalchuk "situation" started, I don't think Kovalchuk would have been brought in if it meant losing Parise. It would defeat the whole purpose of signing Kovalchuk. I've said all along that I feel Kovalchuk was brought in for a future of Parise AND Kovalchuk, not Parise OR Kovalchuk.
I hope this puts to rest most of the OMG WE R LOSING PARISE!!!1 talk. It likely wont, but at least you can point your friends in the direction of this blog to help them understand and ease them off that ledge.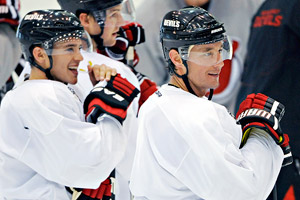 Categories: Player News, Team News
Comments Off
« What I Was Doing Fourteen Years Ago Today | Home | New Jersey Devils / MSG Plus TV Schedule Released »