As we prepare to flip the calender to February, we have a few reasons to celebrate here on SpeakingoftheDevils, and as Devils fans in general.
SpeakingoftheDevils.com will "officially" relaunch on February 1st. While the site has been updated on a regular basis for over a month now, there were (and still are) a few things being added every day. However, the basic layout and most of the features are up and finished.
You will continue to see a variety of things added, especially on the stats and fan profile sections, and as always, the schedule/results page and the roster/stats page will be constantly updated.
Secondly, we can all celebrate the return of real hockey! The All-Star break is fun, but let's face it… it's not real hockey. While our Devils haven't exactly been spectacular this season, they have been playing pretty well lately, and the rest of the season should prove pretty exciting to watch.
The first game back for the Devils is tomorrow night vs the Ottawa Senators, and I have two lower-level tickets that I'm giving away!
Lastly, and probably most importantly, we are getting pretty close to unveiling some great things from the Devils Army Generals.
I have been asked by a lot of people what exactly it is that we will be doing. My answer is always "You'll see…"
Basically, we will be a first-of-its-kind group that will work directly with the team as a voice of the fans. Through many different outlets, we will bring ideas, concerns, comments, questions, and anything else on the mind of the fans directly to the team.
All of our content will be fan driven. The group that is assembled range from fans who have been season ticket holders for years, to fans that have recently become diehards. Everything we do will be for the fans, by the fans.
You will be able to talk to us directly, or through a variety of other forums, and we will be able to tell you exactly what's being done.
More details will be available very soon, so be on the lookout!
So, to celebrate all of this, I have TWO tickets ($120 value each) for tomorrow's game, which I will be giving away! All you have to do is leave a comment here, @ me on Twitter, leave a comment on my Facebook page or on the Speaking of the Devils page, and tell me why you want me to give you one of those tickets. Pretty easy.
NOTE: You don't have to be a Devils fan to win. We all know that fans of other local teams prefer to see exciting hockey and therefore like attending Devils games. Anyone can enter to win! (I am biased, though.)
Not only do you get a FREE $120 ticket (section 17, row 22), but as an added bonus, you'll be sitting next to me, which is kinda priceless.
I will pick two people at random by tonight… or when two people actually show interest, whichever is sooner.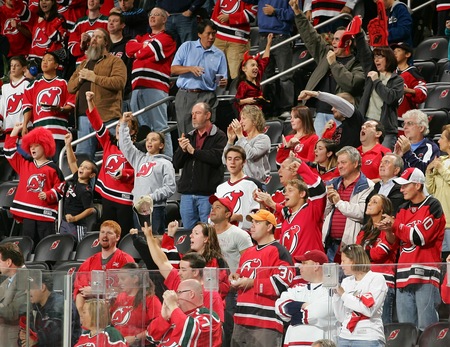 Categories: General
5 Comments »
« Patrik Elias Goes to Team Staal in the 16th Round | Home | Know The Enemy – Devils vs Ottawa Senators »
5 Responses to "Let's Celebrate the Return of Real Hockey With Free Tickets!"